The ThinkPad A31p is an oddity. It came after the 770Z, which was IBM's previous workhorse laptop. It also came before the "G" and "W" (Workstation) Series of laptops, the latter of which ran from 2008 (W500 and W700) to 2015 (W541 and W550s), before being replaced by the P50 and P70. The A31p was known for being overkill, even by 2002 standards: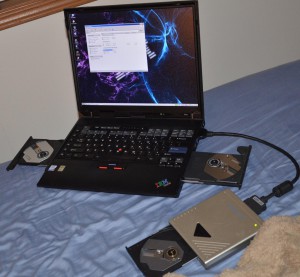 The first thing you may notice is the dual-spindles. The A31p was the last of the "A" Series of laptops, and included both an UltraBay 2000 on the left side AND an UltraBay Plus on the right side. This meant you could run with a total of 2 batteries and a DVD Player, or a floppy and a DVD player in addition to the standard battery.
There were also two additional UltraBay options for this model, although they are both extremely rare. One is a Numeric Keypad, and one is a cradle for the then-current IBM WorkPad PDA. Both of these went into a housing which slipped into the UltraBay.
One thing you may not notice right away is the screen resolution. Even in 2002, this laptop had a FlexView – that is, IPS – 1600×1200 display. Due to this alone, I continued to use the laptop until mid-2013, during which time Lenovo was only spitting out 1366×768, 1680×1050, and 1920×1080 (none of which reached the vertical resolution of 1200 pixels) laptops.
After the 1600×1200 T60p in 2006 and the 1920×1200 W700/W701 in 2009/2010, Lenovo didn't match or exceed 1200 vertical pixels again for several years. At this point, 3K and 4K were becoming crazes, so they decided it would be a good time to stop using resolutions with vertical pixel counts that were common in 1995 (768 px).
Additional oddities about the A31p are its optional Bluetooth and Wi-Fi add-ons, as well as the row of keys to the left of the keyboard. Around this time, "Multimedia/Internet Keyboards" were commonly being produced. These typically had a row of additional buttons or keys (often along the top) which served as shortcuts to common websites or programs. The A31p (and its older twin the A30p) continue to be the only ThinkPads with such additional buttons, as of 2015.
Connectivity was no issue with the A31p, since it had an S-Video In and S-Video Out port, in addition to VGA and USB. You could also dock the laptop in the IBM Dock II, which gave a ridiculous amount of ports total. Here are the ports the Dock II offered by itself:
1 PCI – half-length
2 CardBus – type II (or one III)
4 USB (Type A)
1 Serial (RS-232)
1 Line-Out
1 Line-In
1 Parallel (25-pin)
2 PS/2 (1 keyboard, 1 mouse)
1 Floppy Connector
1 VGA
1 DVI
1 Modem (RJ-11)1 x modem – phone line – RJ-11
1 Ethernet (10/100)
And this was all in addition to the ports already on the laptop.
About the Author