The 770Z was the top-of-the-line IBM ThinkPad laptop from 1999. It offered several features that were absolutely unheard of at that time in a laptop, such as a DVD Player, 1280×1024 screen resolution, and 10 hours of battery life. The catch, of course, was the cost: Its STARTING price was no less than $4,799 USD, which would be roughly $6,900 in 2015. If you add the options I mentioned above (including a second battery), you'd be looking at the equivalent of at least $8,000 today. I'm fairly certain nobody would spend that much for a laptop today (except perhaps on the MSI Titan.)
I set out to find one of these rare birds with a DVD Drive and 1280×1024 screen, and was successful!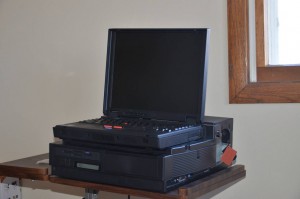 At first glance, this laptop may look extremely bulky, and appear to be about the size of a small car. However, I was also able to get, new-in-box, a Select-A-Dock III and Select-A-Base 770Z to go with the laptop. This is what you see below the laptop.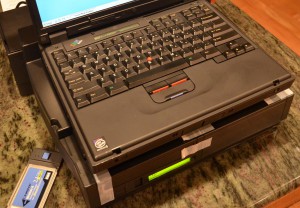 Below is a close-up of the keyboard, showing a ridiculous 11-hour battery life (8 hours and 20 minutes while playing Quake). The 11-hour figure is with the brightness turned all the way down, of course, since this is the era of Fluorescent backlights and not LED. Note that there is a slider for brightness control on this laptop (and a rotating knob for the volume control). This means you don't have to take your eyes off the screen to adjust either brightness or volume.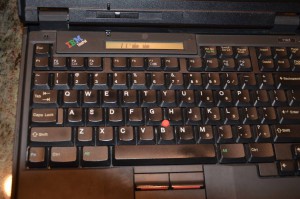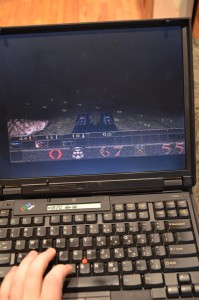 Needless to say, if you want to use the DVD Player functionality, you would have to remove the battery on the right and put the DVD Drive in its place: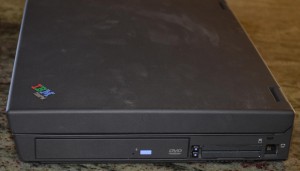 This is a very bulky laptop, even when it's not docked. And it's all rubberized paint – top, bottom, and palmrest – which makes it extremely comfortable to handle.
The keyboard itself is a treat to type on. They clearly made this with quality in mind, which obviously explains the high price tag.
And here are some more shots of the laptop on the dock, with it running. You can see the 1280×1024 resolution here!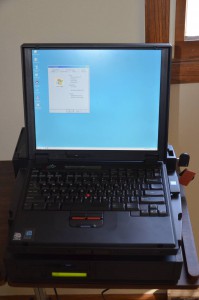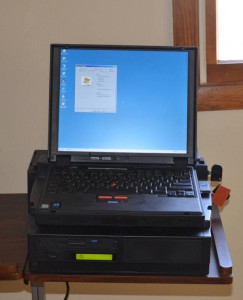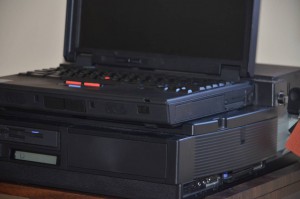 About the Author