Not very often am I excited about a laptop. I was sitting in a computer lab at my university on September 10, 2008, when I read about a ThinkPad model that had just come out on August 12. It was called the W700, and it was unlike anything I had ever seen.
I quickly surfed to Lenovo's online configuration tool. At the time, the total price (as-configured) was $3,993. I didn't order it then, but despite the high price, I continued to be interested in it for months to come.
So what did this laptop have that intrigued me so much?
Three industry firsts:

A built-in WACOM Digitizer in the palm-rest
A color calibrator built into the keyboard
An optional second screen, which popped out to the right of the first screen

Screen resolution of 1920×1200
A Blu-Ray Burner option
Two ThinkLights, a fingerprint reader, a webcam, a numeric keypad, and Bluetooth
At the time, I was using a Dell Inspiron 700m that had literally none of the above! I was blown away, and promised myself I'd use the money from my two jobs to save for this.
In April of 2009, I plunked down a highly-discounted $2,800 and bought a brand-new ThinkPad W700.
2.00 GHz Quad-Core
1920×1200 Screen Option
Blu-Ray Burner UltraBay Option (which cost me $400 extra…)
WACOM and Calibrator Options
Fingerprint Reader Option
Webcam Option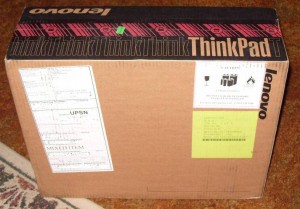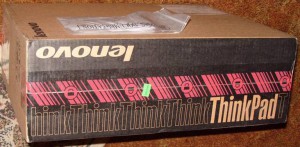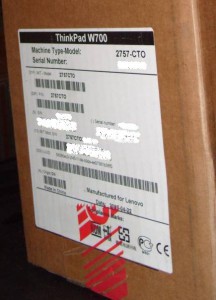 Immediately, I was blown away by the craftsmanship. Even printed booklets! I quickly realized this was $2,800 well-spent, and it indeed continues to be used as a daily driver in my household even to this day (August 2015).
Here are some close-ups of the power brick, and yes, that says 170W:
A friend quickly commented that "this isn't a laptop, it's a desktop with a built-in UPS." I lugged this laptop (and the power supply, since it only got 1.5-2 hours of battery life) to each and every class for the next two years. Speaking of, here's what the battery looked like:

And here are some pictures showcasing the beautiful, color-calibrated 1920×1200 screen:
That square area in the lower-right of the palm rest is the WACOM Digitizer pad. You can draw on this just like a typical WACOM tablet – when you hover above the square area with the digitizer pen, the mouse moves. When you tap down on the area, it registers as a click. And this is all with tilt and pressure sensitivity.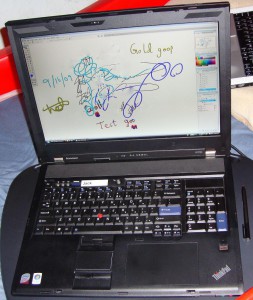 Here's a picture of the $400 Blu-Ray Burner Option, which they discontinued very quickly: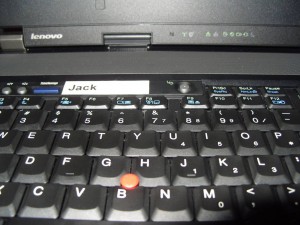 As you can see, in 2009 they still supplied indicator lights (LEDs) on the clearplate near the keyboard. They likely removed these to reduce confusion, save costs, and lower the weight. (That was sarcasm.)
And finally, here's a picture of the W700 (left) next to the IBM PS/2 CL57SX (right):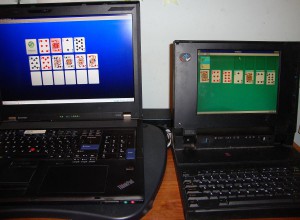 Specs (at the time the picture was taken):
ThinkPad W700 (left): 2.0 GHz Quad-Core, 1920×1200, 4 GB of RAM, SolSuite 2010 on Windows Vista
IBM PS/2 CL57SX (right): 20 MHz Single-Core, 640×480, 5952 KB of RAM, Solitaire on Windows 3.1
About the Author