Introduction
In the computing world of the early-to-mid 1990s, one of the most common buzzwords you would encounter was "multimedia". This, in context, referred to a computer's ability to smoothly play music, video, and animation. Many computer-related uses were quickly found for this type of media, from entertainment to encyclopedias to games. But with most people using primarily 3.5″ Floppy Diskettes, which only contained 1.44 MB (or in rare cases 2.88 MB), a few people still using 720KB 3.5″ floppies, and a few holdouts still using the venerable up-to-1.2MB 5.25″ floppies, space was a concern. How could "multimedia", which took hundreds of megabytes, be delivered onto a computer that otherwise met the specifications to play multimedia?
The answer, of course, was the CD-ROM. Widely popularized by the game Myst in 1993, computers started getting these in the early-to-mid 1990s. While some power users already had CD-ROM Drives for several years before this point (usually the kind where you had to put the CD in a caddy, then put the caddy into the drive), the price point was finally coming down to what most would consider "reasonable".
There were several solutions, but most of them were cumbersome. You had the Backpack CD-ROM drive, which connected to a laptop's printer (parallel) port, but this required a power adaptor that was usually quite a bit bulkier than the discs you were carrying: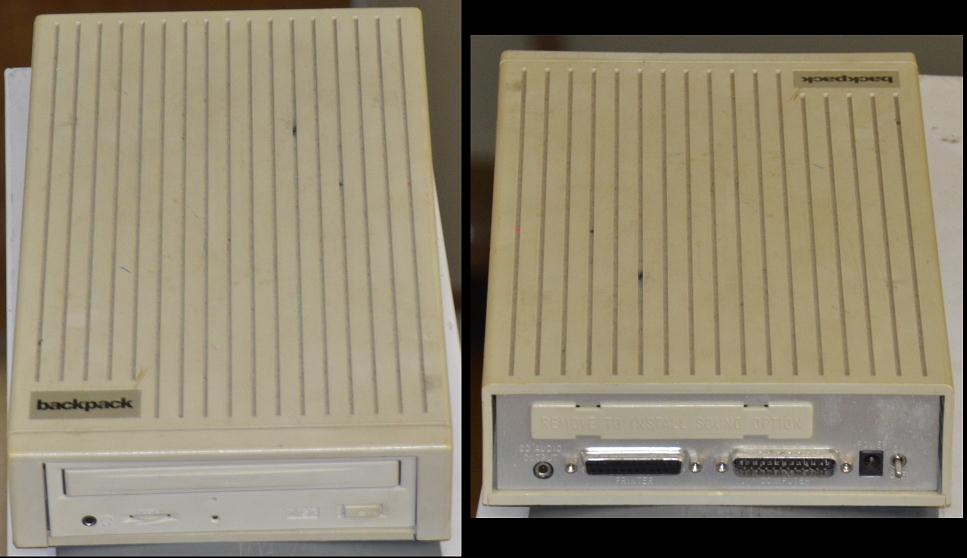 The earliest backpack CD-ROMs also had the advantage of being usable on a desktop computer, even working with the original IBM 5150 if you had enough patience.
Later, you started to see PCMCIA-standard Type-II PC Card CD Drives (such as the ones from Panasonic or Addonics). The first few still required an external power supply, but the later ones eventually drew power from some PCMCIA Ports:
Finally, in the late 2000s, slimline USB CD Writers (which didn't require external power at all, simply drawing from the USB Port's 5 Volts) began to appear: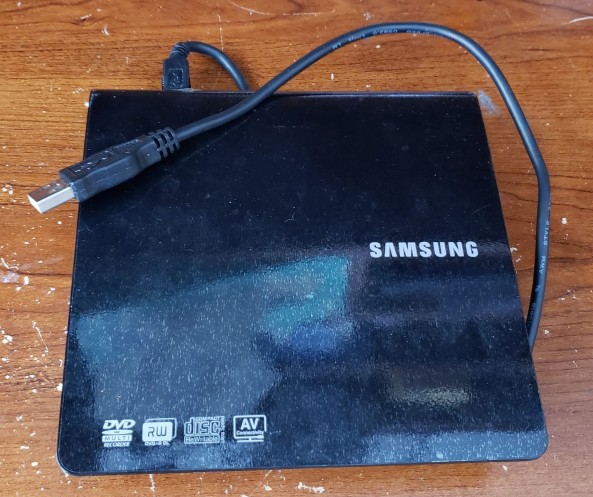 The Panasonic CF-41
The problem now, of course, was how to take CD-ROMs on the road with you.
This is exactly what it looks like – an $8,700 laptop with a CD-ROM Drive built in! But wait, that's in 1995 dollars. Adjusted for 2019, this laptop (the Panasonic CF-41) would cost you a modest $14,657.50. So if you had this kind of money, as many industries did at the time, you would typically get these for field technicians that needed access to large databases of information while they worked. While this laptop is not technically called a Toughbook, it clearly set the path for Panasonic's line of fully-rugged portable computers, which followed shortly after this model's release.
The specs reflect the price at the time. For the CF-41 MK2 (second revision), your CPU options were:
– Intel DX4 @ 75 MHz
– Intel DX4 @ 100 MHz
– Pentium 1 @ 75 MHz
– Pentium 1 @ 90 MHz
All of these CPU options had an internal Level 1 cache of 16KB. The Pentium variants offered an additional Level 2 cache of 256KB.
For hard drives, you could get a 260MB, 450MB, 680MB, or whopping 1 GB drive. Note that, in 1995, a 1.2 GB WD Caviar drive was considered middle to upper end – in a DESKTOP.
RAM started at 4/8/16 MB (depending on the CPU you picked) and, with the use of an IC DRAM Card, could be expanded to 20/24/32 MB.
The screen is magnificent – a BRIGHT active-matrix 640×480. Combine this with the built-in sound card, and you have one of the rare trifectas of modern MS-DOS retro gaming – a laptop with a built-in CD Drive, active-matrix 640×480 native resolution, and sound card (including stereo speakers). There are surprisingly few laptops with this combination (the ThinkPad 755CD is one of the others).
This particular laptop also has the capability to hold two batteries at once. The first battery can slide into the media bay in the right, and the second battery (which is all I have, and it surprisingly holds a charge for about an hour) goes into the bottom of the laptop, under the hard drive cover.
Here are some more pictures, including one of me accessing the CD-ROM drive (Drive L: in this case) from MS-DOS:
About the Author