If you're looking for a mid-90s laptop with built-in gamepad buttons, CD-ROM, Floppy Drive, and Sound Blaster-compatible sound card, the SAGER 5200PT is right for you.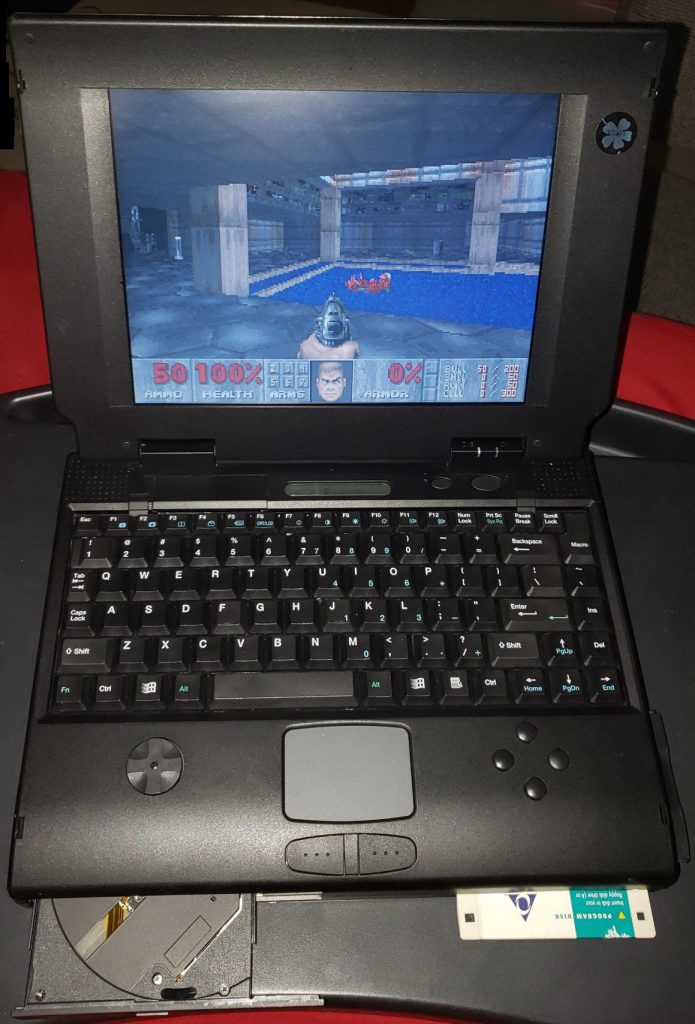 There is very little information about this machine online, however I am familiar with SAGER and how they operate. SAGER/Clevo is a company that assembles custom high-end laptops, usually for an appropriately high-end price. I know somebody that ordered a SAGER laptop in 1999 (at a cost of roughly $4,000), and it came with a built-in DVD player, FireWire, and a few other features that were fairly unheard of in a laptop of that era. Unfortunately, due to the custom nature of these laptops, researching any particular model number can be a real hassle.
The 5200PT's most distinguished feature is the gamepad buttons which are built into the palmrest (similar to the modern GPD Win I got a few years ago):
However, the premium features of this laptop (apparently manufactured in January 1997) don't stop there. There's also an active-matrix TFT LCD (in an era when dual-scans were still somewhat popular), a dedicated joystick/MIDI port, configurable built-in Sound Blaster support, the previously mentioned 8x CD-ROM drive, and a lot of nice extra touches, such as a fanfare that plays when you boot it up (similar to the ThinkPad 860).
The screen resolution is 800×600, which may actually be considered detrimental nowadays, where many people want a 640×480 laptop for DOS gaming without ugly stretching. Fortunately, 640×480 looks fairly nice on this laptop; even with stretching disabled, you don't have too big of a black border around your picture. The gamepad buttons function similar to a built-in joystick (DOOM had no issue recognizing it when I selected Joystick control).
About the Author